Shortlisted: Sticky Notes for Your iPhone
Happy Friday! Today I'm introducing a new feature called "Shortlisted" where I will highlight one of my favorite things each week. (Yes, a la Oprah.) Because what good are fabulous things if you don't share them?
Sticky Notes for Your Phone
Just in time for the release of the iPhone 5s, the first item to be shortlisted are awesome post-it notes for your iPhone called "Paperback."
I actually have a regular-sized sticky note on the back of my phone most days.  Just so I remember to do something when I walk through the door or it's a good way to keep track of a few quick items I need to grab at Sephora or the grocery store.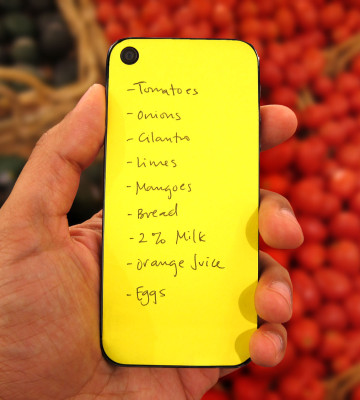 These great stickies have a mostly-adhesive back so they lay flat on your phone at all times, making them perfect when I'm running errands and am constantly tossing my phone in and out of my bag.
As fellow list-makers, I'm sure you understand the satisfaction of physically crossing something off of your to-do list. I love that these notes allow me the satisfaction of crossing things out without having to worry that I'm going to lost the loose sheet of paper I'd written my grocery list on!
Not sold yet? My favorite thing about these little stickies is that you can stick a few on your phone at a time. That's super convenient and ideal for a busy day!
What's not to love?
Available via iLoveHandles. 80 sheets cost $7.95
Related articles
https://listproducer.com/wp-content/uploads/2017/05/ListproducerLogo.png
0
0
Paula Rizzo
https://listproducer.com/wp-content/uploads/2017/05/ListproducerLogo.png
Paula Rizzo
2013-09-20 06:49:35
2013-09-20 06:49:35
Shortlisted: Sticky Notes for Your iPhone